Ascribe
Article: Ascribe Taps Google Consumer Surveys for All-In Tool by MRWeb
Published 09/27/2016
Cincinnati, Ohio-based Ascribe, best known for its text analysis expertise, has linked with Google Consumer Surveys for a new solution offering clients custom market research with a 'massive' consumer sample.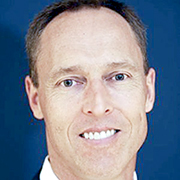 The company's roots are in verbatim analytics, and a year ago it introduced a speech-to-text solution to help draw out insights from customer phone conversations. The new Ascribe Surveys is integrated with Ascribe's Intelligence Suite, allowing for detailed analysis of survey and verbatim data, but incorporates Google's quick survey technology and sample base to promise instant feedback from very large numbers of consumers, mined, analysed and presented with its own software.

Dylan Lorimer, Product Manager, Google Consumer Surveys comments: 'We're excited about collaborative opportunities on our platform that bring the reach, quality and speed of our representative sample to third party research products'. The Internet giant already has partnerships with the likes of Ipsos, Kantar and MarketSight.

According to Ascribe CEO Rick Kieser (pictured), 'This solution combines the fastest and most cost-effective survey/sample SaaS offering on the market with a world-leading comment analysis suite. The result is a new insights platform that equips researchers with speed, scope and perspective they would otherwise have to piece together or forgo - no other product can do this today with a single login'.

Ascribe was founded in 1999 and services clients in 57 countries with tools including Coder, Accelerator and Inspector. Home page: www.goascribe.com .
Read on the Blog